Nigerians choose Buhari as biggest problem of Nigeria – Reno Omokri
By Factnews on 10/10/2017
Views: 556
Bestseller and former aide to Ex-President Goodluck Jonathan, Pastor Reno Omokri has alleged a poll he conducted showed Nigerians chose President Buhari as "the biggest problem of Nigeria."
According to Omokri, he had asked in the poll saying, "As 2019 approaches, what do you think is the greatest challenge facing Nigeria?"

He had given four options which are: Mass unemployment, Corruption, Terrorism and Buhari.
He said, however, Nigerians chose the category with Buhari "by a whopping 43%!" Pastor Omokri also said that "We don't have a leader in PMB. We have a problem in him!" Below is his tweet of the poll: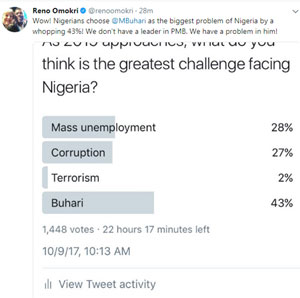 Source Vanguard
Posted on October, 10 2017
---
You may also like...

30 Imo workers arrested for N650m pension fraud...

Donald Trump ends decades-long White House tradition of...

Sallah: We must see ourselves as one, Ikpeazu...

El-Rufai makes teachers' competency test scripts public

Anambra guber: Students stage walk for peaceful, credible...

Nigeria Army Discover and Destroy Reactivated Illegal Oil...

Buhari orders crackdown on banditry in Zamfara; Approves...

2019: Tinubu kicks against automatic ticket for Buhari...

Ebola: Doctors reject Sept 22 schools' resumption date...

Address the suffering of poor Nigerians, Tinubu tells...

Serena Williams wins U.S. Open