Nigerians choose Buhari as biggest problem of Nigeria – Reno Omokri
By Factnews on 10/10/2017
Views: 688
Bestseller and former aide to Ex-President Goodluck Jonathan, Pastor Reno Omokri has alleged a poll he conducted showed Nigerians chose President Buhari as "the biggest problem of Nigeria."
According to Omokri, he had asked in the poll saying, "As 2019 approaches, what do you think is the greatest challenge facing Nigeria?"

He had given four options which are: Mass unemployment, Corruption, Terrorism and Buhari.
He said, however, Nigerians chose the category with Buhari "by a whopping 43%!" Pastor Omokri also said that "We don't have a leader in PMB. We have a problem in him!" Below is his tweet of the poll: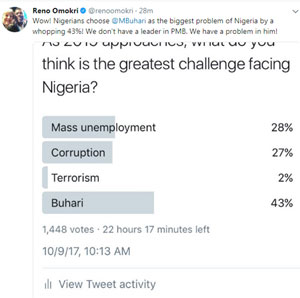 Source Vanguard
Posted on October, 10 2017
---
You may also like...

You are what you eat

ISIS Plot To Attack Subways In Paris And...

I have No Regret Being a Man of...

American Express president Ed Gilligan dies

We have power to increase the budget, NASS...

Femi Kuti Breaks Kenny G's record for the...

Court of Appeal ruling on Abia governorship can't...

Stolen Senate mace recovered near Abuja City Gate...

FIRS collected N2.5tr in 8 months

'I did not tell anyone to induce Judges...

What has actually become of journalism in Nigeria...